The Betfair Bonus Review Uncovers Offers Which Will Blow Your Mind
What can you say about Betfair apart from the fact that they have basically changed the face of betting in the UK?
They can't lay claim to being the first betting exchange within the industry, but few people would argue that they are the best in the business and are continually raising the bar in terms of this type of betting.
You will probably be aware that they also have a sportsbook, so the Betfair sportsbook and exchange have to be regarded as an account that both recreational and serious punters should be involved with.
Dave - Sports betting expert
Bookmaker

Bonus

Rating

Action
Advantages

Best odds guaranteed available

Wide selection of free bet offers

Industry leading betting exchange platform

License

gambling comission

#39411

Device Compatibility

apple
windows
android

desktop
latpop
tablet
phone
Just in case you were wondering, the Betfair sportsbook and exchange are part of the same account, so you don't need to register with them separately, and they can both be accessed from the Betfair home page.
Placing bets is about as straightforward as it is possible to get, and that is the case if you are using the website or the mobile version of the Betfair sportsbook and exchange.
Are the Betfair Offers Worth Shouting About?
The simple answer to that question is yes, the Betfair sign up offer and the other lucrative promotions can be worth shouting about because as a rule, they are very generous. The majority of Betfair offers are available on the sportsbook, but you will also find exchange offers from time to time.
Two Betfair Welcome Offers to Choose From
Let's begin by looking at the two options offered by Betfair and give you a chance to compare them to other sports betting promotions before you start your betting experience. The Betfair Sportsbook welcome bonus is straightforward enough and pretty lucrative.
New customers just need to place 5 x £10 bets to receive a £20 free bet and this process can be repeated up to five times, so this basically means that a total of £100 in free bets is available. There is a minimum odds requirement of ½ (1.5) so as you can see, this is not a bad little welcome offer and worth taking advantage of.
The Betfair Exchange welcome bonus, on the other hand, comes in the form of a £20 risk-free bet. There are no catches, and it is as simple as it sounds. Place your first Betfair Exchange bet of up to £20, and if it loses, the £20 will be refunded to you in cash.
This means that if your initial bet loses, there will be no wager requirements on the £20 cash refund so you can withdraw it straight away if that is what you prefer.
Other Alluring Promotions
It goes without saying that Betfair is an account that you should have whatever Betfair joining offers are available, but it would not be an exaggeration to say that they can be extremely attractive. It is also worth keeping an eye on the other regular promotions offered by the sportsbook.
Best Odds Guaranteed
The Betfair Best Odds Guaranteed offer applies to all bets placed on Irish and UK horse racing winner markets after 8 am on the day of the race.
The way it works is that if you take the early price on any horse in these races and the price drifts, you will be paid on a winner at the higher odds. If the selection wins at shorter odds, you will be paid out on the price which you took when placing the bet.
Each Way Edge
The Betfair Each Way Edge is a novel little offer which enables you to alter the number of places available to a horse racing selection in order to either increase or decrease the odds which are available to you. This can all be done from within the betting slip and on selections where the Each Way Edge is available by clicking on the plus and minus buttons. The odds will be displayed so that you can instantly decide how many places you require.
Betfair Special Offers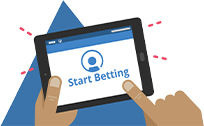 Open Account Offer
Up to £100 Free Bet for new customers
Place 5 x £10 bets to receive a £20 free bet
Minimum odds of ½ (1.5)
Sports
FOOTBALL

GREYHOUND RACING

HORSE RACING

DARTS

SNOOKER

BASKETBALL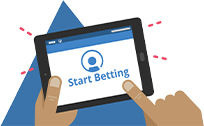 Rewards 4 Racing
Betfair have teamed up with Rewards 4 Racing with points awarded for every £1 that you bet on the sportsbook. The points that are collected can be exchanged for tickets and experiences at over thirty racecourses situated all over the UK.
Free Bets
Betfair have a range of free bet offers such as the Greyhound and Horse Racing multiple promotion in which a £20 multiple is rewarded with a £5 free bet. There is a similar offer available on a football match same game multi where a £25 free bet is awarded when you win a same game multi with minimum odds of 4/1.
Full details of these offers can be found under the promotions tab on the website of the sportsbook.
Take It to the Next Level with Betfair Football Trading
Betfair football trading is an activity which can take your online betting to the next level, but you should be aware that if this is something that you really want to get into, practice makes perfect.
This is carried out on the Betfair betting exchange as opposed to the sportsbook, and if you click on a football match that has gone in play, you will probably be surprised as to how quickly the markets move.
Don't forget, with a betting exchange you are betting against other people instead of betting against the bookie, so you will quite often see the odds move quite dramatically when something of note happens during the match.
With Betfair football trading, you will need to be able to concentrate on the match instead of trying to trade whilst you are holding a conversation with someone or watching the TV.
If you do decide to give it a go though it should be remembered that a large number of punters use Betfair football trading to make a living, it really can be that profitable if you know what you are doing.
The World's Best Betting Exchange Site

Streaming Thousands of Events Every Year
Here's a list of what I bet on the most at Betfair
darts

snooker

baseball

volleyball

golf

esports
The Betfair Registration Process
The registration process is extremely straightforward, and it is just a matter of filling out the form, registering a payment method and away you go, but you should be aware that when it comes to the verification process, they are extremely strict, as indeed they should be.
It is well known within the online gambling industry that Betfair uses advanced software to ensure that a customer is not opening duplicate accounts.
This is not a practice that most punters would even consider, but due to the generous Betfair promotions, some punters will try and open multiple accounts so that they can take advantage of these Betfair bonus codes time and time again.
To be perfectly honest with you though, these punters are wasting their time as the sportsbook can spot this practice a mile off and these punters are immediately stopped in their tracks.
Don't forget, the Betfair verification process is something that has to be put in place due to the extremely strict money laundering laws, and it protects the punter as well as the sportsbook.
The verification process usually consists of the requirement to send them a copy of the payment method you are using to make a deposit, some form of photo ID such as a passport or a driving licence and a document such as a utility bill which has your address on it.
Some punters, especially those who are new to the world of sportsbook betting, get offended when they receive a verification request and think that Betfair are trying to get out of paying them their winnings.
This assumption really could not be further from the truth and is common practice amongst all reputable sportsbooks.
If you are intending to open several sportsbook accounts, it is always a good idea to make copies of these documents and save them on your computer because you will then be able to comply with any Betfair verification process request within a couple of minutes and then it is out of the way.
If you have used a bank card as your deposit method, it is quite acceptable to blank out the middle digits of your account number as well as the three-digit number which is situated on the back of the card next to your signature.
When the verification process has been completed, you will receive an email telling you so, and you will be able to continue to deposit, withdraw and place bets on your Betfair account.
How to Make a Deposits and Withdrawals
In order to make deposits and withdrawals to and from your Betfair account, you just need to click on the 'My Account' tab which can be found towards the top right of the website. From there, click on the drop-down menu on the Payments tab and you can then choose to either deposit or withdraw from your account.
By choosing the deposit option, you can make a deposit by a credit/debit card which you have already registered with Betfair or add a new one.
There is also the option to make a deposit by using alternative methods such as a web wallet which includes Skrill and PayPal.
When it comes to making a withdrawal, the withdrawal methods which are available to you will be clearly displayed and are based on the methods from which you have already made a deposit with into your Betfair account.
Simply enter the amount that you would like to withdraw and click on the yellow 'withdraw' button.
Min deposit: £5
Max withdrawal: £20 000

: 2-5 days

Min deposit: £12
Max withdrawal: £37 500

: 24h

Min deposit: £10
Max withdrawal: £25 000

: 24h

Min deposit: £5
Max withdrawal: £5 500

: 24h

Min deposit: £5
Max withdrawal: n/a

: 24h

Min deposit: £5
Max withdrawal: £20 000

: 2-5 days
Top Notch Customer Support
Those of you who have had a Betfair account for some time will probably remember the times when the customer support was not all that it perhaps should have been.
This could probably be attributed to the fact that Betfair went from a standing start to an exchange where every man and his dog wanted to open an account, and it looks like they were totally overwhelmed.
Thankfully, support of that quality is now a thing of the past as the Betfair customer support is up there with the best of them and most customers will agree that the support staff will go the extra mile in order to resolve any problems, in a friendly and efficient manner.
It would not be an exaggeration to say that the Betfair support staff probably have a higher degree of betting knowledge than many of the other sportsbooks on the market due to the very nature of the betting platform that Betfair operates on.
One particular aspect of the support which has come on leaps and bounds over the last year or two is the live chat and in particular, the ease of connecting to a live chat operator.
Betfair don't actually call this type of support live chat but instead, 'message us'.
It works in exactly the same way though, and you simply type in your question and within a minute or so, an operator will connect with you and answer your question.
Customer Support
Phone: 0844 871 0000, 0044 20 8834 8060
Email: info@betfair.com
Address: PO Box 34467, London W6 9WS, United Kingdom
Live chat: Yes
non stop customer support
Should you open a Betfair account?
There are not many accounts which should be considered as being a 'must-have', but Betfair is most definitely one of them.
There are other betting exchanges on the market, but in terms of liquidity, none of them can come close to matching Betfair.
The customer support is first class, and if you ever encounter any problems whatsoever, they will be resolved in the shortest possible space of time. Betfair is fully licensed and regulated by UKGC (#39411).
The website and mobile version of the website are examples of how a sportsbook and exchange should be, well laid out and easy to navigate whilst placing a bet is extremely straightforward, and you are never left wondering if the bet has been accepted or not as the bet placement notification is displayed straight away.
Pros & Cons
Pros
Best odds guaranteed available

Wide selection of free bet offers

Industry leading betting exchange platform

Fully licensed and regulated by Gambling Commission
Cons
May improve live streaming options
The sportsbook is never shy in offering promotions, and Betfair bonus codes are not usually required as bonuses are added automatically.
Recommendations don't usually come much higher than that, so if you have not yet signed up to Betfair, it is highly advisable that you do so at your earliest opportunity.
As already mentioned, it is advisable that you don't hang around and wait for the most attractive Betfair new customer offer because you just never know when it will be withdrawn.
There will probably be a Betfair joining bonus in place so the advice would have to be to just sign up as this is an account which you should have even if there wasn't a Betfair sign up bonus available because it really is that good.
Other Recommended Bookmakers
Bookmaker
Sports
Payout %
Info
Rating
Action
Read Review

31

95.53%

Massive bet variations available

One of the best free bet offers

BET NOW

#AD T&Cs apply. 18+

Read Review

18

94.12%

Live Stream available

Good selection of offers

BET NOW

#AD T&Cs apply. 18+